Our aim is to provide you with a hassle free bar service so you and your guests can relax and celebrate in style.
We recognise that many couples enjoy arranging a wedding reception that is a little different and may choose to hold in a venue that does not have a bar. Do not worry because we can provide one for you. We are specialists at working in a variety of establishments and can tailor the service we offer to suit you. We can bring our own bar units or can set up within any existing facilities that are available.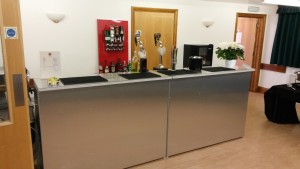 We enjoy working with you to ensure that we can provide the range of drinks that you think your guests will enjoy. We can even arrange for a beer to be named in your honour.
Unlike other mobile bar providers we often won't make an initial charge for attending your reception though this will depend on your exact requirements. One cost we might incur would be if your venue isn't already licenced for the sale of alcohol in which case we would need to apply for a Temporary Events Notice (£21 plus admin fee).
We are happy to work in collaboration with other service providers you may already have on board such as caterers, bands, DJs etc or we can recommend a range of companies we have worked with previously.